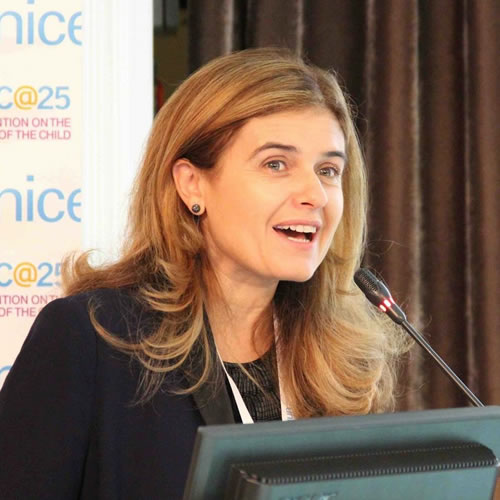 Director of Communications, UNICEF
In April 2013, Paloma Escudero was appointed as Director of Communications of UNICEF. Bringing her extensive experience and expertise in the areas of communications, fund raising, advocacy and brand management, she oversees UNICEF's global public outreach and communications as its senior communication official.
Prior to the appointment, Ms. Escudero had already been well known among the UNICEF family as Executive Director of the Spanish National Committee. Under her management between 2007 and 2013, the Committee was transformed into a highly efficient organization, increasing its contribution to UNICEF's programmes in more than 150 developing countries and contributing significantly to emergencies such as the Haiti earthquake.
Escudero started her professional career, which spans more than two decades, in Procter & Gamble Spain in 1989, where she was Brand Manager and oversaw the marketing teams responsible for the brand repositioning of products.
After a sabbatical year during which she travelled around the world with her husband and worked as an aid worker in Guatemala, Escudero joined Oxfam in 1997, and became the Director of the Oxfam International Advocacy office for the European Union in 2000. First based in Spain and later in Brussels, She worked on issues such as Overseas Development Aid, external debt, humanitarian law, international agriculture and trade, and climate change.
Escudero holds a Bachelor's degree in Economics and Business Sciences from ICADE — Universidad Pontificia Comillas in Madrid — and obtained an Erasmus grant to specialize in marketing at ESSEC business school in Paris.
Back to Speakers